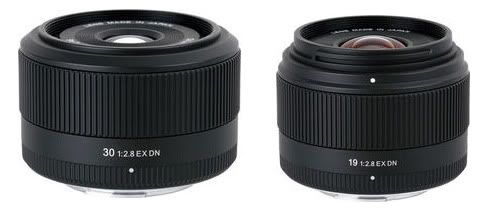 Tomorrow Sigma will announce two new lenses for the Micro Four Thirds system and the Sony NEX system, these will be the first third party autofocus lenses available to users of M43 cameras.

There's a 19mm F/2.8 and a 30mm F/2.8, neither of them are particularly exciting in terms of specs but we can forgive that considering how unique they are for the time being, no doubt they are designs that were relatively cheap and easy to make but there's nothing to say they won't give stunning IQ and at least Sigma haven't gone for a really safe bet with a superzoom like Tamron have done with their debut NEX offering.

Sigma make some really fantastic lenses so while I agree these don't look earth shatteringly impressive I have confidence they will combine good value with strong image quality so I'll be looking forward to some reviews and samples!